Get An Adapted POS System For Your
Farm Market!
Introduction
Lamar Martin is the Owner and Manager of Berry Blossom Farm Markets in Hagerstown,
Maryland. He is part of a small coop of farmers specializing in hydroponic greens, blueberries, asparagus, and other fruits and vegetables. Lamar focuses on getting products from other growers and buyers. He is involved with large farm markets and connects with other growers from there as well. He was a career school teacher in a church school but wanted to teach his children about owning a business. He involved his children in all aspects of the business and taught them how to run a successful business.
The Challenge
Two years ago, in 2020, Lamar faced a challenge with his aging POS system. The Berry Blossom Farm Market desperately needed an updated system to keep up with the demand. He could upgrade his existing system, but the customer support system was less than satisfactory. He noticed that other local stores had StoreLIVE! as their Point of Sale system. Once he noticed how many positive reviews were being shared, his son Andy completed the research and set up the appointment with Good's Technology Services.
The Process
Lamar's son, Andy, coordinated the process with Good's Technology Services. They adapted the POS system for Berry Blossom Farm Market because the products are sold in open boxes with no barcodes. Lamar enjoys the intuitive training mode because it allows
employees to train easily on the system.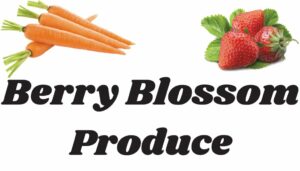 How Farmstead Flowers Uses the StoreLIVE! POS System
Berry Blossom Farm Market uses their adapted POS system with integrated scales. These scales connect directly to the register and efficiently calculate customers' totals. They can use the touch screen to enter the items into the system and seamlessly add any weight information.
The products are divided into departments, with vegetables being the largest. Additional departments are pre-made salads, grab-n-go vegetables, cut fruit, fall squashes, and pumpkins. Each department has its own prices and can add weight information from the scale.
Lamar also enjoys the in-depth reporting. He can access end-of-day and end-of-week reports, as well as summary reports. Lamar is also pleased with the dashboard feature with the quick glance at the profits.
The only con that Lamar noted was that there should be a way to easily alter reports and access them in different formats. Otherwise, he is happy with his StoreLIVE! POS System.
The Results
Lamar expressed that he "recommends StoreLIVE! To any other similar type of business. It's uncluttered, operates offline, and is down-to-earth."
You can visit Berry Blossom Farm Market at 1583 Potomac Ave, Hagerstown, MD 21742, or online at  https://padutchmarket.com/merchant/berry-blossom/.
StoreLIVE! POS and Reporting System
If you are an independent small or medium-sized retailer searching for an adapted Point of Sale system that generates detailed reports, give us a call! We would be happy to introduce you to our StoreLIVE! system!