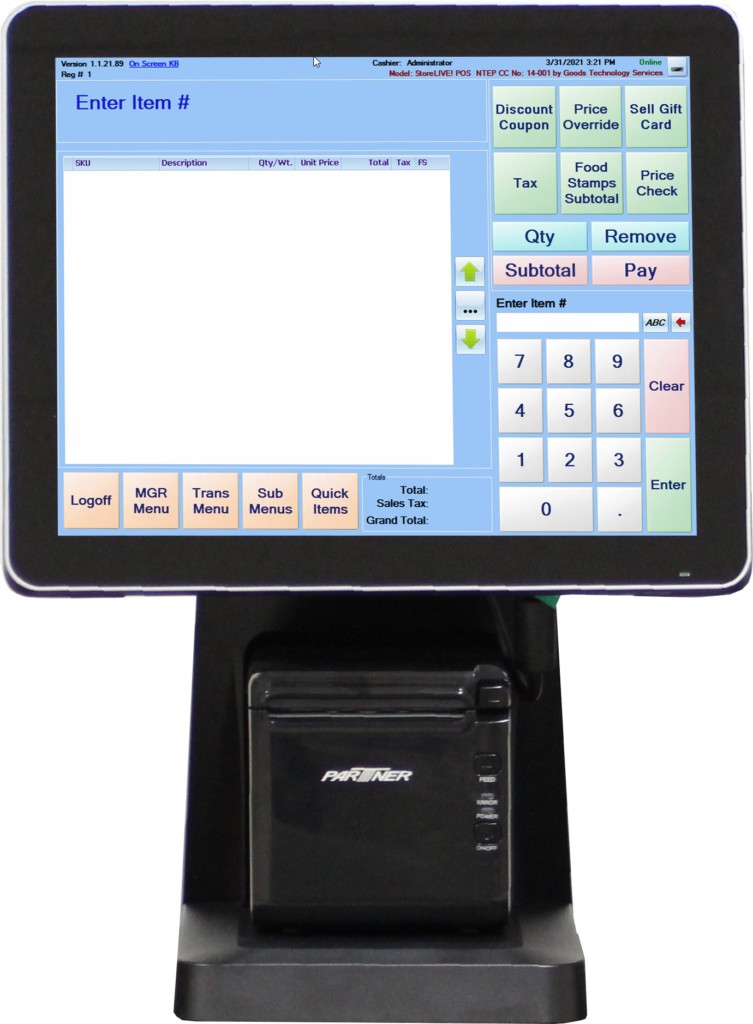 The StoreLIVE! system is a full-featured point-of-sale and inventory management system designed for the unique needs of independent small and medium-sized retailers. Many independent retailers offer a unique mix of products. Ranging from grocery categories such as bulk food, deli and produce to general merchandise categories like crafts, clothing, fabric, shoes, books, lawn and garden, and hardware. Each of these product categories introduces unique requirements. The StoreLIVE! system has many flexible features allowing the system to be used in these diverse environments. Please contact us to learn more about this system or to schedule a live demo.
What makes StoreLIVE! unique?
Credit card processor flexibility (you're not locked into one company's rate)
Continue working with your local IT provider
Process hundreds of transactions daily at every register lane
Train new employees quickly with intuitive UI
StoreLIVE! Point-of-Sale Features
Fast, efficient checkout

High-speed barcode scanning
High-volume throughput
Touch screen or POS keyboard interface (with barcode scanning, a sale can be completed with as few as two screen taps.)
Intuitive interface is easy to learn and efficient to use
Quick item menus for items that don't have barcodes
Easy Transaction Suspend/Resume
Automated return processing – Returns from original sales receipt
Allows for bottle deposit handling
Detailed customer-facing line display

Payment Methods

Cash (supports Canadian cash rounding)
Checks (optional prompt for ID)
Integrated Credit Card Processing
Food Stamps/EBT
Gift Card (supports: mag-stripe, barcode, or paper certificate)
Customer Charge Accounts
Offline Credit

Self-checkout
Robust promotion support (including mix/match, tiered pricing, buy one get one free, 3 for $1.00, etc.)
Customer pricing groups
Supports multiple tax rates or tax zones (city, county, state, etc.)
Scale integration for weight based items (produce, fruit, etc.)
Price-embedded barcode support (bulk food/deli/meat label printing scales)
Offline Mode: If the connection to the central server is lost, the checkout lanes will continue to function.
Intuitive interface for common cashier tasks such as error corrects, price overrides, multiple quantities, and receipt reprinting
StoreLIVE! Manager Features (back office)
Efficient POS drawer balancing
Electronic Journal: Allows powerful searching of all transaction with item level details
Robust Reporting

Many sales reports
Accounting reports
Inventory reports
Cashier auditing reports

Powerful item database supports advanced search, tracking of item information, multiple item types, and detailed pricing information
Price / Cost Management

Mass Price Change Tool: Change prices based on groups of items by fixed or percentage amounts; schedule the price change
Promotion Management: Schedule special promotional pricing
Cost Change: Update costs and selling prices, report on margins, import spreadsheets supplied by vendors

Vendor Management: Reconcile vendor invoices with items received. Automatically transfer invoice information to QuickBooks as a payable invoice
Purchasing: Purchase order screen supports automatic reorder points
Variable Weight/Length Barcode Printing
Inventory Management Features
Full Inventory Tracking Support
Purchase Orders
Auto Purchase Order Generation based on Min/Max settings
Ordering tool allows purchasing agent easy access to sales history, pricing and margin information on a single screen
Mobile Purchase Order App

Multiple warehouse and bin support for tracking item locations
Warehouse to Store Order Screen
Warehouse to Store Order Allocation/Approval

Warehouse/Distribution Management
Inventory Receiving allows receiving of items with or without a Purchase Order
Vendor Invoice Matching to verify received items against Vendor's Invoice
Support purchasing and selling items in different units of measure
Support for inventory kits and/or assemblies
Customer Sales Orders and Invoices
Inventory Counting and Adjustments Application
Powerful Integrations
FreshKDS – An easy to use Kitchen Display System
Parseur – Data entry automation software
QuickBooks® desktop edition: Detailed transaction history is stored in StoreLIVE! while summarized sales, customer invoices, vendor bills, and inventory valuations are transferred to the popular QuickBooks accounting software. For more information, please download the StoreLIVE! QuickBooks Integration whitepaper (PDF).
eCommerce Integrations
Scale Item Management
Label/Barcode Printing: StoreLIVE!'s label-printing engine is compatible with many ZPL capable printers.