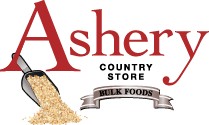 Ashery Country Store (Fredericksburg, OH)
Ashery Country Store, known as the "Grandma of Bulk Food Stores" and often referred to as "The Ashery" is a Bulk Food store located in Ohio Amish Country near Fredericksburg, OH. Ashery Country Store was founded by Cecil and Freda Yoder during the late 1960's and today is owned by their son Curt Yoder.
Over the years, the store has undergone numerous expansions, with the most recent and largest expansion completed in 2014. Today the store offers thousands of bulk food items including baking ingredients, soup mixes, noodles, pasta, spices, coffee, tea, drink mixes, candy as well as many other types of items such as canned goods, deli items and snacks.
One of the unique processes found at The Ashery Country Store is the process of buying items in large quantities and then repackaging the product into smaller containers and labeling it for resale in the store. To accomplish this task, they rely on label printing scales to both weigh and label the product. In order for this process to function effectively, accurate item data must be maintained in the scale. Maintaining accurate item data for hundreds or thousands of items is challenging, and it is even more challenging when the same data is required on multiple scales. To help manage this and other areas of their business, Ashery Country Store chose the StoreLIVE! Point of Sale system.
The StoreLIVE! system integrates with Invafresh's scale communication products, allowing item information to be maintained in StoreLIVE! and transmitted to compatible label-printing scales. This allows Ashery to maintain one master copy of their item, pricing and ingredient data in StoreLIVE!, and be confident that each scale is up to date with the latest information. While keeping the scales up to date, it also ensures that the items will scan correctly at the checkout.
In addition to providing a solution for scale management, The Ashery Country store also benefits from faster checkout times due to the efficient scanning and checkout features of StoreLIVE!. Extensive sales and inventory reports also provide benefits to them by allowing them to track their best selling items, slow selling items and most and least profitable items.
You can visit the Ashery Country Store at 8922 SR 241, Fredericksburg, OH or online at www.asherycountrystore.com.

Care & Share Thrift Shoppes (Souderton, PA)
Multi-store w/ centralized management
With a mission to "…model God's love and care for the earth and its people through recycling efforts and a positive shopping experience," Care & Share Thrift Shoppes has evolved from a single thrift shop started in 1975 to five shoppes with a total of 31,000 square feet.
The stores accept donations of quality used merchandise and resell these items in their thrift shoppes. Proceeds from the sales are contributed to Mennonite Central Committee for use in humanitarian work throughout the world. The stores have contributed millions of dollars to this cause.
To operate the organization in a way that maximizes the store's contributions, a core team of employees is supplemented with a large pool of volunteers. When Care & Share shoppes was researching POS options, a core requirement was a system that was very easy to learn and operate in order to make the volunteer's jobs as easy as possible. Care & Share Shoppes found the StoreLIVE! system met this need. Good's Technology saw opportunity to make the system even more useful and proceeded to enhance the system with a specialized "thrift-tailored" cashier screen.
Today, Care & Share Shoppes utilizes the StoreLIVE! system in each of their five thrift shoppes. The system is deployed in a multi store configuration, allowing their central office to access data for each store. This centralized access simplifies the back office accounting procedures and provides the organization with combined sales reports and real time access to the sales performance of each store.
Care & Share Shoppes are located just north of Philadelphia, PA in the town of Souderton. They can be found online at www.careandshareshoppes.org.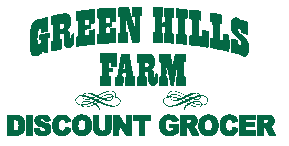 Green Hills Farm Discount Grocer (Lititz, PA)
Fewer errors and simplified reporting
Green Hills Farm Discount Grocer is an independently-run grocery store in Lititz, PA. With 6,000 square feet of retail space, the store has a fresh-deli, bulk-food, and produce department in addition to its main line of discount groceries. The store was operating 3 checkout lanes with standard cash registers, stand-alone credit card processing terminals, and stand-alone scales at each checkout lane.
The store was struggling with the limitations and data entry errors that are typical with this type of setup, including mis-keyed credit card tender amounts, double entry of scale items weighed at checkout, manually keying prices of all items at the cash register, and processing delays associated with stand-alone credit card terminals. The StoreLIVE! system was implemented to solve these issues and further streamline operations.
The store now enjoys significantly faster checkout times with integrated credit card processing, directly connected scales to weigh items, the ability to scan barcodes on variable-weight deli and bulk food items, and an electronic journal for historic transaction lookup. In addition to this, cash drawer balancing has also been simplified with the StoreLIVE! register balancing application, and real-time and historical sales and sales tax reports are available at any time.